Local Food Production Requires Irrigation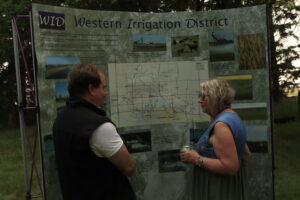 ​A beautiful, warm weekend brought out many visitors during Alberta's Open Farm Days in mid-August this year. The WID was pleased to join the growers at Poplar Bluff Organics and Carrots by Cam, two irrigators, to meet curious and hungry guests.
Hundreds took advantage of the chance to take the wagon ride through the fields of veggies, learning how critical irrigation is for our farmers.  They enjoyed fresh carrots, potatoes and beets pulled along the way.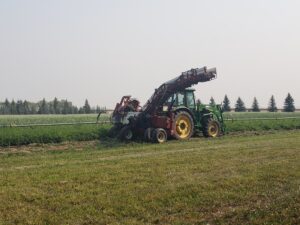 Delicious lunchtime options and the opportunity to buy potatoes and other organic products rounded out the experience.
The WID appreciated the opportunity to explain how vital irrigation is for growing local food. Local residents and guests were eager to hear about a new irrigation pipeline the WID is currently installing close by, which will help farmers like these to expand irrigation and local food production next season.
Modernized infrastructure from the WID and investments in new equipment from farmers allow more efficient use of water which helps water users throughout the District.