From the time she was young, Anita Heuver developed a passion for plants and for business.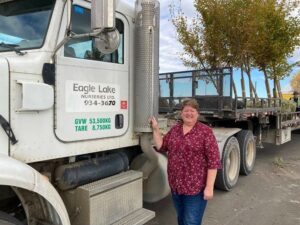 In the 1960s, Anita's father Tony and his brother Henry established Eagle Lake Nurseries near Strathmore, seeding and growing turf grasses with water from Eagle Lake. When a connection was made to the WID's North A Canal, they could flow water into a large holding pond on the farm. Access to reliable and good quality water contributed to the family's ability to expand into a large nursery. Now, they have 600 active acres growing more than 900 varieties of trees, shrubs and perennials targeted for the wholesale landscaping market.
Various types of irrigation support their four farm locations – fields of large trees have drip irrigation which is 90%+ efficient; potted trees have a system with a targeted tube to spray directly into each pot; and for shrubs and perennials, overhead systems are used. The holding pond is crucial for their ability to care for all plants in early spring and through the fall.
The team at Eagle Lake works to anticipate what clients will want and need, even several years in advance, so they can provide a one-stop-shop for a range of landscaping projects. And that's what still energizes Anita about the business, navigating and influencing planting practices.
"It's an exciting time for our industry, more decision makers are seeing that plants are not only beautiful but are helpful to mitigate floods by providing drainage, clean the air, and can survive extreme temperatures. We can bring that awareness to our clients and help them care for our environment."